District Boundary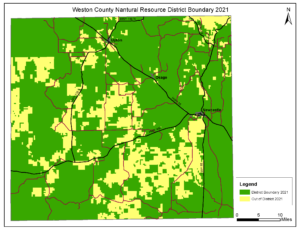 2021 WCNRD Boundary Map
(click map to enlarge it)
Are you in the district or out of the district?
The Weston County Natural Resource District is unique among Conservation District's in Wyoming, as not all the land in Weston County is in the District. When the district was created, it only included land north of Highway 16 and East of Highway 85. Landowners who didn't want to be in the District could opt-out, and other landowners not in this region of the county could also opt-in. Since the initial creation of the District, other landowners have also added their property into the District. Consequently, the map of the District boundary is a patchwork of land in and out of the District.
Mill Levy
In 1988 the District members voted in support of a mill levy. It was again supported by vote in 2003. Landowners that are in the District pay into the District mill levy. This is the main source of income for the District and covers the District's administrative expenses as well as many of the District's programs. It is also used to help leverage additional funding from local, state, and federal grants. Because of this, the board of supervisors voted on May 14, 2003 that the District would not provide services to people not in the District.
Adding land into the District
Additions of land into the District are done on a voluntary basis. Landowners who want to add their land into District can fill out a 'petition' and provide a legal description of the land to be added. This can be obtained from the County Assessors Office. Once the petition is signed, the board considers them 'in', and they can receive services. Once land is added into the district, it is permanently in the district and can NOT be taken out of the district, even if the land changes ownership.
If you are interested in what the District can do for you or would like to join the District please contact the office at (307) 3264 ext. 4 today!